| | |
| --- | --- |
| Please distribute to all staff | September 25, 2008 |
Kia Ora !*FIRSTNAME*!,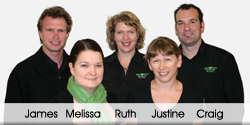 Another first for Rotorua, with Alpin Motel, owned by Steve and Gillian Osborne, awarded the first Qualmark Enviro logo. The endorsement recognises environmental good practice alongside a quality tourism experience. For more information on Qualmark, visit qualmark.co.nz.
Other good news this week is Rotorua rated a mention in the Best in Travel 2009 Guide, just released by Lonely Planet. The region came second in the elemental travel section, just behind Tokyo.
"If you arrive in Rotorua thinking this town sure does like it's egg sandwiches, you'd be forgiven - but off the mark entirely....the land in Rotorua is alive: it rumbles,
gurgles, spits and hisses like a prehistoric creature of sorts," the guide says.
Our new international co-ordinator, James Fitzgerald started on the 10th of September and replaces Haydn Marriner. James has recently been taking time out with his new daughter following running his own tourism website and prior to that working for Flight Centre in the UK. He has hit the ground running as in less than two weeks he heads to Asia for a three week stint of frontliner training and Kiwilink. He's visiting as many operators as he can before he goes and we're undertaking Rotorua 101 to get him up to speed for that trip! Email james@rotoruanz.com or DDI 349 7287..
The new mountainbike brochure will be off the press shortly as we recognise a gap in our collateral offerings for mountainbiking. This brochure complements the mountainbiking trail maps available from the Redwoods and has been a joint initiative with the Rotorua Mountainbiking Club.
A busy few weeks ahead for Conference & Incentive as we head for the CINZ Conference and then undertake the annual Auckland Showcase for C & I organisers. Enquiry level has been high and Melissa has had heaps on as you can see from her report further in this newsletter.
Enjoy the warmer weather!
Kind regards
Ruth Crampton
Assistant General Manager
DDI 349 7280
In This Issue

Domestic Research

Over the past month we have been undertaking some research domestically for both the leisure market and the C & I market to determine what images would stimulate visitors to Rotorua.

It was an interesting exercise and whilst final results are not yet here, we had a good C & I focus group which stated that whilst they enjoyed working with Rotorua operators and the destination performed beautifully for conferences, there was an old fashioned / tired stigma attached to Rotorua that made it difficult to convert their corporate customers. This is a sentiment that has also been heard throughout the international market and we are ensuring that where possible our imagery reflects meaningful, authentic and in some cases fun images that potential visitors can relate to and think – I could do that or that could be me.

Results will be available shortly so we can determine the best approach for our TV and print advertisements.

Rotorua Visitor Guide

The Rotorua Visitor Guide specs were sent out yesterday to all those who had completed their marketing opportunities contracts. The Visitor Guide is our consumer piece and over 200,000 are printed annually. Please ensure you have all your material back to zeroseven by 06 October so we can meet our deadline. This publication is distributed through New Zealand, Rotorua and via wholesalers in Australia and TNZ offices worldwide.

Jasons have also announced they will be producing a What's On Visitor Guide and Dining Guide from December. This is a new publication to the Rotorua area and one that offers a listing of events, restaurants, shops as well as accommodation and activities. Whilst DRTM has no involvement with this publication, it will fill a gap in the dining / shopping guide area and we have encouraged them to talk to Shop Rotorua to look at a joint venture.

Consumer Shows

Last year, we dipped our toe in the water with domestic consumer shows, by attending Big Boys Toys in Auckland. Consensus was it was a good show and so we have re booked our attendance this year on 14/16 November. Partners with us at that show will be Raftabout, Zorb, Quadzone and Agroventures.

We will also attend for the first time this year the 50+ Lifestyle Expo running in Auckland on 10/12 October. Industry partners at this event will be Lakeland Queen, QE Health and Novotel / Ibis.

If you would like to be considered for Consumer Shows in the future please let Craig know on craig@rotoruanz.com or complete the Expression of Interest form in our Marketing Opportunities Guide. Alternatively if you are attending a consumer show, let us know if we can assist in any way or whether there is potential for a Rotorua presence next time.

Australian Activity

To complement the What's On Spring promotion in conjunction with Tourism NZ, DRTM have been undertaking some wholesaler activity as well.

With ANZCRO over the spring period, we hae produced a spring flyer, co-operated in advertising with Harvey World Travel, Flight Centre and a staff incentive.

Additionally we have been co-operatively marketing with Kirra Tours through the Traveller's Choice network. This will also include some editorial in the Queensland Sunday Mail.

To date the What's On online promotion has generated 6800 visits to our website and numerous enquiries and bookings so we are very happy with this result.

C & I Update

Road Shows

Information for the Rotorua Road show to Auckland went out on Monday the 22nd September to all of those that had expressed interest in attending. It will be held at the Ellerslie Events Centre on the 15th October from 2-6.30 pm. If anyone would like more information please email melissa@rotoruaNZ.com

Information for the Wellington road Show will be coming out next week and the date is the 30th October 08.

The Conference Company Cocktail Function

On Tuesday the 16th of September the Bureau in conjunction with Event & Venues hosted 24 PCO's from The Conference Company at a Cocktail Function/Tradeshow where 30 local operators where on show. The Conference Company only had limited time in the city and could not famil
Everything we as a destination have to offer and it proved to be a great opportunity for those who attended to get some face time with one of New Zealand's largest PCO companies with staff from all three offices throughout the country in attendance.

Famils

The Bureau has hosted seven famils over the past month, and this has proved once again the value in getting people to the City to see what we have to offer as they where all very impressed with what they saw and Rotorua in general. The Bureau is continuing to work with the attendees and it looks like several pieces of business will be converted. If anyone has a client that they would like to bring to the City, please contact Melissa at the Bureau and she can help you arrange a nights FOC Accommodation and other relevant activities.

Bids and Conference assists

Although requests for bids have been slow in the past few months, these have steadily increasing recently, with 4 requests in 2 days last week.
Enquiry thru the RotoruaNZ.com website and phone enquiries have also increased with a total of 17 assists in the past 6 weeks.

Bid Document

Many of you would have received a copy of what your pages in the Bid Document look like for editing and updating in the post recently. Melissa is currently working thru three sections, before moving on to the other section in the document, so if you have not received your yet, it will be coming out shortly. Please let Melissa know if you would like any changes made, or if you wish it to stay the same so she can continue on with this project.

Planner 09

Melissa will be contacting all those that expressed interest in being part of the planner for 2009, once we have received the outcomes from the above Focus group as we hope to incorporate any suggestions that come from this. We are also looking at holding a "Launch" of the planner in Auckland on the 12th of February 2009, as we see a need to have Rotorua as a destination in the Auckland market place more often and this is a great way to network.

CINZ Conference

Just a reminder to CINZ members that the CINZ Conference in on in the Hawkes Bay this year on the 7-9th October, so if you would like to attend, please register now. Both Melissa and Ruth will be attending.

Agent Familiarisations

19-21 September, GTA Famil, Brazil

22/23 September, ANZCRO Staff famil, Australia

26/27 September, Kangaroo Tours Famil, Brazil

Media Update

We are focusing on pitching editorial to target publications over the next few months. Justine has been writing new editorial, as well as refreshing existing copy, for this project.

TV3 has added more Rotorua stories to the travel section of its website; a link to the latest one is below. Anyone wishing to have a story featured on this and/or DRTM's website please contact Justine. 3news.co.nz

For any operators sending out press releases, please ensure Justine is on your distribution list. Justine can forward these releases to media on our database and add them to the news section on our website to maximise coverage.

If you have a new product you'd like to see included in an itinerary or as editorial pitched to TNZ, please let Justine know. Please also note that if you are approached by media with famil requests DRTM can provide assistance on a case-by-case basis. Phone (07) 349 7286 or email justine@rotoruaNZ.com

Visitor Activity Statistics

New Zealand International Visitor Arrivals (IVA) – Jul 08

International visitor arrivals to New Zealand for the month of July 2008 were up 1.6% over July 2007. Arrivals were up from Australia (up 1.6%) and USA (up 2.6%). There were fewer arrivals from UK (down 2.5%), Japan (down 1.9%), Korea (down 8.1%) and China (down 11.8%) and Germany (down 0.8%).

Rotorua Commercial Accommodation Monitor (CAM) – Jul 08

Visitor arrivals to Rotorua commercial accommodation providers for the month of July 2008 were down 3.8% over July 2007. Domestic visitor nights were down 2.9% and international visitor nights were down 9.7%, resulting in a 5.5% decrease in visitor nights overall. Nationally, visitor nights spent in commercial accommodation for the same period decreased 2.1%.

Rotorua Attraction Monitor – Jul 08

Visits to Rotorua Attraction Monitor participant businesses for the month of July 2008 were down 10.4% over July 2007. For the same period domestic attraction visits were down 15.8% and international attraction visits were down 6.4%.

Rotorua Regional Visitor Monitor – QE Jun 08

Questions relating to visitor perceptions of environmental performance in the regions were introduced in this latest quarter. The overall environmental management of Rotorua was rated by 43% of respondents as being 'world-leading' and is on par with the benchmark of the six participating regions (46%). 'Being environmentally friendly' was rated by 13% of Rotorua respondents as being one of their 'top 3' considerations when travelling, and 11% indicated they would always choose an environmentally-friendly option over an alternative.

Most of the tourism monitors are freely available by subscription and can be downloaded from rotoruaNZ.com.

For more information about Rotorua visitor statistics or to subscribe to any of the monitors please contact Gina on DDI (07) 349 7289 or gina@rotoruaNZ.com

Events – October 2008

Whaka 100 MTB Ultra Marathon
25, 50 OR 100KM MOUNTAIN BIKE RACES
Date: Saturday, October 4
Venue: Long Mile Road, Whakarewarewa Forest

Rotorua Ekiden Relay
TRADITIONAL JAPANESE TEAM RUNNING RELAY
Date: Saturday, October 11
Venue: Village Green, Rotorua Lakefront

Indo Pacific Trampoline Championships
WATCH THE BEST GYMNASTS FROM THE INDO-PACIFIC
Dates: October 12-19
Venue: Energy Events Centre

Xterra Trail Run #3
OFF ROAD RUNNING SERIES; 10KM, HALF AND FULL MARATHON OPTIONS
Date: Sunday, October 19
Venue: Long Mile Road, Whakarewarewa Forest

Home and Garden Show
TRENDS, INNOVATIVE IDEAS AND KNOWLEDGEABLE EXPERTS
Dates: October 31-November 2
Venue: Energy Events Centre

For more information and to check out the latest events go to rotoruaNZ.com/events

Dates for the diary

Blue = Destination Rotorua Marketing participation

2008

8 - 9 October, CINZ Conference, Hawkes Bay

10 - 12 October, 50+ Lifestyle Expo, Auckland

13 - 15 October, Kiwilink Asia, Shanghai

15 October, C & I Showcase, Auckland

17 - 23 October, Frontline Training, Asia

30 October, C & I Showcase, Wellington

7 – 9 November – Backpacker Expo, Sydney

12 - 14 November, Big Boys Toys consumer show, Auckland

20 - 23 November, World Travel Mart, London

20 – 23 November, China International Travel Mart, Shanghai

8 - 11 December, International Luxury Travel Mart, France

2009

27 March - 5 April, Kiwilink USA, Vancouver & Los Angeles

8 - 11 June, TRENZ, Auckland

Recipient and sender details

We have collected your contact details. This information is collected to enable us to keep you up to date with tourism news pertinent to the Rotorua tourism market and keep you informed of the activities of the Destination Rotorua Marketing office. We will not disclose your contact details to third parties.

Ruth Crampton
Assistant General Manager
Destination Rotorua Marketing
Private Bag 3007, Rotorua
Phone +64 7 349 7280
Fax +64 7 349 4133
marketing@rotoruaNZ.com