| | |
| --- | --- |
| Please distribute to all staff | December 16, 2008 |
Kia Ora !*FIRSTNAME*!,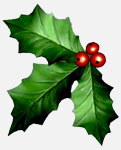 Who said things are meant to quieten down at Christmas time!!!?? We have been inundated with media famils and C & I famils and hopefully with excellent results (well we're trying out best!!)
It's timely to remind attraction operators and restaurants to make sure you advise the accommodation sector of your opening hours during the holiday season. This information is vital to ensure we keep our visitors well informed (and spending money as well!)
As the year draws to a close we'd all like to thank you for your support and understanding of what we are trying to achieve. It is so important that we promote destination first in the market to grow the size of the pie so in turn hopefully your share grows. International will be challenging in the month's ahead but it's pleasing to see a 6% overall increase in domestic visitor nights spent in commercial accommodation during the school holiday months of September and October 2008 over the same two months of the previous year.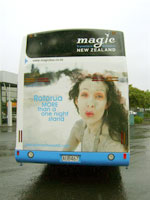 The Visitor Guide is finally at the printers and we apologise for the short delay in getting these out. We had to chase and chase some advertisers so it held us up a bit, however it's an extra 4 pages long which is great for the destination. These will be out before Xmas and we do have stock left of the 2008 edition so we still have brochures on the shelves.
For those who remember our former C & I Co-ordinator Stacey Neale, she is now gracing the back of a Magic Bus as she promotes Rotorua – More than a one night stand. The Rotorua Backpacker network purchased two bus backs from Magic and will be on buses moving around the North Island. The second one should be completed before the end of the year.
We start our next burst of TV advertising on 27 December and this advert features a family having a great time in Rotorua. It will play through the digital network on channels 1 and 2 targetting the family audience. Click here to view the new commercial.
Please note: The DRTM office will be closed between December 25, 2008 and January 5, 2009.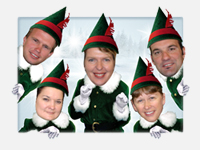 And for a laugh, click here to receive a Christmas greeting from the Marketing elves!
Look forward to working with you in 2009!
Kind regards
Ruth Crampton
Assistant General Manager
DDI 349 7280
In This Issue

GNZTR Product Manual

As you are aware, Destination Rotorua Marketing will no longer be producing a stand alone Rotorua Trade Directory. We will be supporting inclusion in the GNZTR Product Manual as well as improving our trade area on rotoruaNZ.com.

The GNZTR trade directory has an initial print run of 5000. This is distributed to all key wholesalers/retailers/inbound operators and will be used as the main trade training tool for both Destination Rotorua Marketing and GNZTR. It will also be distributed at all Kiwilinks, at all trade activity by the 8 member RTO's and to trade famils.

Currently under construction is the RotoruaNZ.com trade section. This is to be a comprehensive trade section with tools to make it simpler for agents/wholesalers/inbound operators to prepare itineraries confidently for their clients. Currently the rotoruanz.com site receives approx 21,500 unique visitors per month.

All existing advertisers of the GNZTR and Rotorua Product Manuals will have received an email from James, however if you are interested in participating in this package, please email James Fitzgerald on james@rotoruaNZ.com.

Cruise Market Update

As you may be aware, Cruise Rotorua, of which DRTM is a stake holder, have been exploring development opportunities in the Cruise market. This was as a result of the industry identifying cruise as a growth market. Traditionally there have been a handful of operators involved in this market but with an increased number of cruise ships coming to Tauranga this year (56 in total) opportunities abound.

To date the excursions off the ship have been varied, those with mainly American passengers have been a little hesitant to book shore excursions, opting instead to take a walk around Tauranga or stay onboard. Those with Australian passengers have seen some good consistant growth in shore excursions. Increasingly however, the cruise passenger is looking at FIT options. As a result we have set up a cruise page detailing how to get to Rotorua off a cruise ship. Click here to view

Rotorua is unique in that we are the only destination in New Zealand that receives cruise customers but we are not a port. Our reputation as a tourist destination and the fact that many of the shore excursion companies promote Rotorua options have given us some good profile in this lucrative market.

Ruth Crampton is the contact at DRTM for the cruise market and she is working on growing the options for cruise passengers to come to Rotorua, including developing product for the younger market.

Your website

Over the past few months we have been reviewing a number of travel information and online travel agent sites to determine their Rotorua content and areas we can improve the editorial and imagery they use.

The aim is to improve the knowledge of prospective visitors and highlight all the things to do here, so in turn increase the length of stay of vistiors to the region. We've started that project with the information sites but believe that another way to improve this is for you, the Rotorua operators, to include information on your website relating to the Rotorua region - how to get here, where we are located and the range of things to do.

Our site is a good place to start but of course you'll want to personalise it to your product. Clearwater Cruises are an example of an operator who have included local regional info on their website which helps paint a bigger picture and in turns helps sell their product as it makes Rotorua a compelling destination - clearwater.co.nz

There are a couple of options here on how to do this - you can either create your own information page on the region personalising it to your attraction or you can link straight into the relevant pages of rotoruaNZ.com.

If you'd like any destination imagery, logos or content to assist you, contact Justine Southwick on justine@rotoruanz.com

C & I Update

C&I Planner 2009

Work is continuing on the Planner so that we can make the deadline of the 19th December for the printers.

Planner Launches and Functions for early 2009.

The Icon has been booked for the Planner launch and presentation on the 28th January in Wellington. A small working group will be created to finalise the programme for this event.

The planner launch in Auckland will be held at the Westin Hotel so we can capitalise on the Louis Vuitton Pacific Series regatta which is on at the same time.

Famils

Over the past couple of weeks we have had two famils.

Gerard Smith from CiEvents came down looking at Rotorua for an incentive group and has written a report for all CiEvents offices.

Jaimee Cumberpatch from Spanbild came thru last week looking at Rotorua for a conference of 100-120 pax for August 09. A decision will be made in the New Year.

Agent Familiarisations

The Canadian Flight Centre Group about to get airborne

21 – 23 November Flight Centre, Australia

3 – 4 December TNZ Flight Centre Canada

Media Update

Come back Justine!!

Thankfully Justine has returned from leave today after a huge month of media visits. We've had plenty of activity from Japanese publication Kurashi and TV show Shittoko is in town at the moment filming on newly weds as well as the destination. Our friend Trevor and Anu from Rotorua Duck Tours are the stars of that show.

Also we've had two TV programmes from China and Singapore which are both popular general interest TV shows - ICS Getaway and Channel News Asia.

Lia Nicholls from the Sun Newspaper in the UK has also just been in.

This weekend we have actor Robson Green, pictured left, filming about catching a trout - I'm not going to say where that is happening as we know all you girls will be there!!

Then just before Christmas Mike Hall from TV3 will be filming the weather live from Lake Tarawera, will be a nice push just before the Christmas season.

Keep an eye out for Kia Ora magazine if you are travelling on Air NZ during January, there is a great feature on Rotorua as well as a double page of Rotorua advertisers making it a very effective issue for Rotorua.

More great media planned in 2009 - we'll keep you posted.

Visitor Activity Statistics

New Zealand International Visitor Arrivals (IVA) – Oct 08

International visitor arrivals to New Zealand for the month of October 2008 were down 3.3% over October 2007. Arrivals were up from Germany (up 10.0%) and Australia (up 0.1%). There were fewer arrivals from UK (down 2.3%), USA (down 12.4%), Japan (down 15.1%), Korea (down 17.0%), and China (down 31.5%).

Rotorua Commercial Accommodation Monitor (CAM) – Oct 08

Visitor arrivals to Rotorua commercial accommodation providers for the month of October 2008 were up 0.4% over October 2007. Domestic visitor nights were up 34.0% and international visitor nights were down 29.5%, resulting in a 0.9% decrease in visitor nights overall. Nationally, visitor nights spent in commercial accommodation for the same period increased 4.2%.

Rotorua Attraction Monitor – Oct 08

Visits to Rotorua Attraction Monitor participant businesses for the month of October 2008 were down 11.8% over October 2007. For the same period there was no change in domestic attraction visits and international attraction visits were down 17.0%.

Most of the tourism monitors are freely available by subscription and can be downloaded from rotoruaNZ.com.

For more information about Rotorua visitor statistics or to subscribe to any of the monitors please contact Gina on DDI (07) 349 7289 or gina@rotoruaNZ.com

Events – January 2009

Wild Moa Multisport Event
MULTISPORT RACE FROM LAKE OKATAINA TO THE REDWOODS
Date: Saturday, January 10
Venue: Race starts Lake Okataina

Bike Vegas N-Duro Summer MTB Cup #1
25KM OR 45KM MOUNTAIN BIKE RACES
Date: Sunday, January 11
Venue: Long Mile Road, Whakarewarewa Forest

World Invitational Superstock Champs
INTERNATIONAL SPEEDWAY ACTION
Date: January 16-17
Venue: Paradise Valley Raceway

Blue Lake Rowing Regatta
ANNUAL ROWING RACE ATTRACTING NZ'S PREMIER ROWERS
Date: January 17-18
Venue: Blue Lake, Rotorua

100th Annual A and P Show
THE COUNTRY COMES TO TOWN
Date: January 24-25
Venue: Riverdale Park

Blue Lake Multisport Festival
THREE EVENTS, TWO DAYS ONE GREAT LOCATION
Date: January 24-25
Venue: Blue Lake, Rotorua

Lakeside Concert 2009
OUTDOOR CONCERT SPECTACULAR
Date: Saturday 31 January
Venue: Village Green, Rotorua Lakefront

For more information or to check out the latest events, go to rotoruaNZ.com/events

Dates for the diary

Blue = Destination Rotorua Marketing participation

2009

28 Jan, Rotorua C & I Roadshow, Wellington

12 Feb, Meetings Planner Launch, Auckland

17 – 18 Feb, AIME, Melbourne

21 – 22 Feb, Backpacker Expo, Melbourne

14 – 15 March, Consumer Travel Xpo, Sydney

16 - 20 March, C & I Business Mission, India

21-22 March, Consumer Travel Xpo, Melbourne

27 March - 5 April, Kiwilink USA, Vancouver & Los Angeles

8 - 11 June, TRENZ, Auckland

Recipient and sender details

We have collected your contact details. This information is collected to enable us to keep you up to date with tourism news pertinent to the Rotorua tourism market and keep you informed of the activities of the Destination Rotorua Marketing office. We will not disclose your contact details to third parties.

Ruth Crampton
Assistant General Manager
Destination Rotorua Marketing
Private Bag 3007, Rotorua
Phone +64 7 349 7280
Fax +64 7 349 4133
marketing@rotoruaNZ.com