| | |
| --- | --- |
| Please distribute to all staff | March 24, 2009 |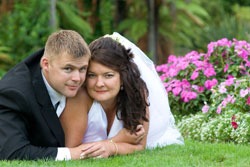 Kia Ora !*FIRSTNAME*!,
Melissa has returned as Mrs Clarke and we have a little sneak preview of her and Scott on their big day.
Thanks to all of you who attended the Tourism NZ / DRTM forum this month. TNZ had all their Regional Managers in town to tell it to us straight about how the markets are looking and what they are doing to drive interest in NZ. Not pretty in the northern hemisphere markets but encouraging signs are appearing from those markets that have launched cheap airfares. Fares from London are currently around GBP 500 and from USA at about US 775. Air NZ have said publicly that the fares from the US are stimulating some great interest so long may that continue. Australia continues to be the beacon of hope with modest growth to date and the recent announcement of $2.5 million to be invested by the government is good news indeed.
Destination Rotorua has committed to What's On again this season and will focus very much on the family market. A banner advert entitled "Where the Muddy Hell are You?"with a family covered in mud (preview here) will click through to a landing page specifically with family information and offers. This will fall in behind extensive TV advertising that Tourism NZ have committed to in this market, also specifically designed at attracting the family market. Click here to see their TV commercial.
Domestic TV also kicked off again last weekend with the family TVC airing for the next three weeks. Click here to view TVC. This will be complemented by ongoing print and banner adverts as well as Billboards going up again around Hamilton for those travelling there for the V8s.
James leaves next week for Kiwilink USA where he will represent the Thermal Explorer Highway . For the first time Kiwilink is going into Vancouver as growth from the Canadian market has been encouraging since Air NZ started services there. A huge publicity exercise is planned in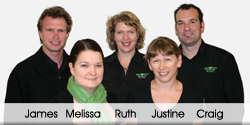 Vancouver with Te Taru White from Te Puia
leads a NZ delegation to exchange greetings
with First Nations representatives.

Kind regards
Ruth Crampton
Assistant General Manager
DDI (07) 349 7280
In This Issue

Famliarisations

Many of you will be aware that there have been some rather large famil groups through recently, mainly from Australia. DRTM has made it our goal to have as many front line agents through to experience the destination and in turn they will 'rave'about their experience to their respective clients.

Whilst you may question the exact return to your business, it is important from our perspective that these participants see Rotorua in a really positive light so they can sell the destination to their clients. Even if they don't directly sell your product, there is no doubt there will be a mention and if we can get them coming here, we grow the pie and hopefully in turn your size of that pie will grow.

Some feedback from recent visits have been - 'Best Team Leader's conference I've ever been on'(Brendan Flight Centre Pinewood). And that was in the pouring rain!!!


Your website

As mentioned by George Hickton keeping your website up to date should be your highest priority in your marketing. We now live in a internet based and instant information world where first impressions of your company will be through your website. Take some time to do a full site audit making sure it is up to date, relevant, easy to navigate and professional at all times and ensure their first encounter with your company is not their last.

Also mentioned in previous newsletters and the industry forum it's is vitally important to be promoting the region in all marketing. On many Rotorua operator websites it seems to be presumed that website visitors know where Rotorua is and what they can do here. By all consistentlypushing the same message about Rotorua, where we are and what to do will all benefit.

To update your website and install the Rotorua widget that has been designed by DRTM please follow the below link (it is very simple). Many operators have already loaded this onto their sites but we would like to see all of you with this on.

Airport update

Work on extending Rotorua Regional Airport's runway is right on track with contractors working on site day and night. Rotorua District Council chief executive Peter Guerin says there are no delays to the works programme and the airport remains on schedule to achieve full trans-Tasman readiness by July.

"Private business flights from Australia are already operating directly into Rotorua, and we remain confident that regular scheduled services will be able to start before the end of the year. The interest in trans-Tasman flights by Australian tourism operators is very encouraging, and right throughout the Bay of Plenty and even further afield, there is a really positive air of anticipation," said Mr Guerin.

Rotorua Regional Airport chairman, Neil Oppatt, said the runway will be longer than most in the country when the current southern extension is completed.

"Rotorua's physical runway will reach 2.1 kilometres in length, longer than Wellington, Dunedin and Queenstown, all of which operate regular trans-Tasman flights," he said.

C &I Update

Two famils in this month

Shelly Reilly and Lisa from FCM Travel Management
Lisa was doing a site inspection for a prospective Canadian Incentive group and Shelly was updating her knowledge on Rotorua for small corporate retreats for her regular clients.

Vanessa Grant and Heather Broughton from Solterbeck in Melbourne and Richard Broughton from Elders Insurance had site inspection as they plan their incentive programme for October 2009. 100 pax. Rotorua is confirmed.

Three famil enquiries for the coming weeks

Mailing to 900 clients of the new planner was completed this month. As a result numerous enquiries for additional information.

Working with the NZ Geothermal Society on a combined bid with Melbourne for the 2015 World Geothermal Congress. Rotorua will be a field trip option prior to the main congress. Aus / NZ are competing against three other destinations.

Planning for the 09/10 year continues with a schedule being established for networking functions with industry partners. If you see value in joint product updates to clients or joint networking functions, please let Ruth or Melissa know.

Trade Familiarisations

19-22 February - Flight Centre Team Leader Conference - Victoria

20-22 February - Newmans Flight Centre Famil, Australia

Media Update

Justine is currently on leave

Good media files proposed including a new Australian Network 7 Comedy show filming 23 March.

Don't forget to view results here, rotoruanz.com/media/results

Sustainability in Action

Come enjoy a fun-filled and exciting afternoon of learning with members of the Rotorua Sustainable Tourism Charter on a site visit of Wylie Court Motor Lodge, network with peers over afternoon tea and attend an 'eco-friendly chemical'presentation.

The afternoon includes:

guided site visit of Wylie Court, demonstrating steps taken and future plans towards increased sustainability
afternoon tea and networking
a presentation by Malcolm Rands, the founder of EcoStore, on 'eco-friendly chemicals that are cost effective and work'.

Date:
Time:
Venue:
RSVP:

Tuesday 31 March 2009
1.30pm to 4pm
Wylie Court Motor Lodge, 345 Fenton St, Rotorua
By 24 March 2009 to gina@rotoruaNZ.com
(non-Charter members are on a space available basis)

Visitor Activity Statistics

New Zealand Tourism Industry Monitor –Mar 09

The Tourism Industry Monitor is an industry initiative led by the Ministry of Tourism, the Tourism Industry Association, Tourism New Zealand and the New Zealand Hotel Council. The monthly monitor provides tourism businesses with regular, up-to-date information on the recent past performance of the tourism sector and an outlook for the upcoming three months. Click here to view the March report and watch out in our end of month newsletter for a link to the April survey so that you too can contribute data to this monitor.

New Zealand International Visitor Arrivals (IVA) –Jan 09

International visitor arrivals to New Zealand for the month of January 2009 were down 3.7% over January 2008. Arrivals were up from China (up 31.8%) and Germany (up 6.0%). There were fewer arrivals from Australia (down 2.2%), UK (down 10.4%), USA (down 19.5%), Japan (down 25.6%), Korea (down 41.9%) and Canada (down 14.8%).

Rotorua Commercial Accommodation Monitor (CAM) –Jan 09

Visitor nights spent in Rotorua commercial accommodation for the month of January 2009 were down 7.8% over January 2008 (versus -3.4% nationally) - domestic visitor nights were down 1.0% (versus -1.2% nationally) and international visitor nights were down 15.0% (versus -6.9% nationally). For the same period there was decline in visitor nights across all sectors of Rotorua commercial accommodation with hosted properties having the least decline (-0.4%) and motels the greatest decline (-11.8%).

Rotorua Attraction Monitor –Jan 09

Visits to Rotorua Attraction Monitor participant businesses for the month of January 2009 were down 6.0% over January 2008 - domestic attraction visits were up 13.0% and international attraction visits were down 13.9%.

Rotorua Convention Activity Survey –QE Dec 09

There were an estimated 48 multiple day conferences held in Rotorua during the quarter ending December 2008 –down 5 conferences or 9.4% over the same quarter of the previous year. There was decreased growth in the 'Association'conference market (down 8 conferences or 36.4%) and increased growth in the 'Corporate'conference market (up 4 conferences or 17%).
Most of the tourism monitors are freely available by subscription and can be downloaded from rotoruaNZ.com.

For more information about Rotorua visitor statistics or to subscribe to any of the monitors please contact Gina on DDI (07) 349 7289 or gina@rotoruaNZ.com


Events –April 2009

100K Flyer Rotorua to Taupo
FAST AND SCENIC 100KM CYCLE RIDE
Date: Saturday, April 4
Venue: Starts from Kingsgate Hotel on Fenton Street

Bike Odyssey
MTB TOUR THROUGH WHAKATANE, ROTORUA,TAUPO FORESTS
Date: April 10-12
Venue: From Whakatane to Rotorua to Taupo

Xterra New Zealand
OFF ROAD FESTIVAL INCLUDING TRIATHLON, RUNNING AND WALKING
Date: Saturday, April 18
Venue: Blue Lake, Tarawera Road

Tagged Trout Tournament
TWO DAYS OF FISHING WITH GREAT CASH PRIZES
Date: April 18-19
Venue: Lake Rotorua

NZ Single Speed Championship
ONE GEAR, ONE CHAMPION, ONE DAY
Date: April 24-26
Venue: Long Mile Road, Whakarewarewa Forest

Pinarello R4 Rotorua to Whakatane Cycle
SCENIC CYCLE PAST LAKES ROTORUA, ROTOITI, ROTOEHU &ROTOMA
Date: Saturday, April 25
Venue: Rangiuru Street, outside ibis Hotel

For more information or to check out the latest events, go to rotoruaNZ.com/events

Dates for the diary

Blue = Destination Rotorua Marketing participation

2009

21 –22 March, Consumer Travel Xpo, Melbourne

27 March –5 April, Kiwilink North America, Vancouver &Los Angeles

8 –11 June, TRENZ, Auckland

22 –23 July, Meetings, Auckland

20 –29 July, UK IMA Meeting, London

11 –12 August, ITOC Conference, Gisborne

7 –11 September, Kiwilink India, India

7–8 October, CINZ Conference, Blenheim

Recipient and sender details

We have collected your contact details. This information is collected to enable us to keep you up to date with tourism news pertinent to the Rotorua tourism market and keep you informed of the activities of the Destination Rotorua Marketing office. We will not disclose your contact details to third parties.

Ruth Crampton
Assistant General Manager
Destination Rotorua Marketing
Private Bag 3007, Rotorua
Phone +64 7 349 7280
Fax +64 7 349 4133
marketing@rotoruaNZ.com