| | |
| --- | --- |
| Please distribute to all staff | April 23, 2009 |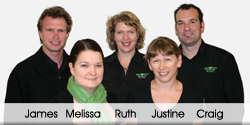 Kia Ora !*FIRSTNAME*!,
The office enjoyed the buzz of the April Fools Joke - Hugh Hefner's new holiday home - a "boost" for Rotorua tourism. The interest in the campaign was phenomenal with an estimated $41,000 of free publicity gained from the stunt. All three TV news channels on April 1 ran the story as did print and online sites both on the day and following.
The website experienced it's highest number of visitors since June 2007 with a special splash page being viewed 4183 times in the 18 hours it was displayed. The story also won the "Toast of the Week" accolade on the Breakfast Show and had the approval of the often cynical Paul Henry.
The intention is to maximise the results of the "Pong for Passion" story about the benefits of the hydrogen sulphide smell on male performance!! We intend to invite key Australian media from men's, health and lifestyle magazines to visit Rotorua. Our new Australian Media Advisor - Hannah Blake, is currently working on a media pitch for this.
The What's On campaign in Australia has kicked off it's Autumn season with a focus on Family and Indulgence. To view TVCs click here. Rotorua selected to work in the Family space and has banner adverts running on Nine MSN, National Geographic and Drive PM sites. To date we've had 3841 click throughs to a specific landing page. View the landing page here. One comment received has been - "As an Aussie, I love your 'Where the muddy hell are you?' - touche! After 'our' not so good tourism ad, this made me crack up - well done, very clever. I can't go to Rotorua any time soon, but at least I know a bit more about it now, even if it did mean having a laugh at Australia's expense." To view banner advert click here.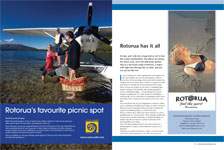 Also in Australia, Rotorua participated in a promotion with Lake Okareka Lodge to give away a four night stay. A full page offer, pictured left, in Travel & Leisure magazine along with a full page destination advert ran side by side for maximum impact. At the same time we took a double page spread in a New Zealand Luxury supplement that has been distributed this month with the Luxury Travel and Style magazine (35,000 subscriptions) and on sale via the top 1000 news agencies in Australia.
We are also working on a large consumer campaign in Australia for later in the year and I'll be happy to share some more details with you in the next newsletter.
Domestically, we are joint-venturing with Fish & Game to take a stand at the Auckland Boatshow in mid May. The stand will be entitled Fish Rotorua and hopefully will be the beginning of many activities we can undertake with Fish & Game to promote Rotorua as a place to fish year round.
Plenty happening so please keep in touch and let us know if there are any opportunities we can work with you on.
Kind regards
Ruth Crampton
Assistant General Manager
DDI (07) 349 7280
In This Issue

Regional marketing strategy

Many of you will be aware that Rotorua Regional Airport have appointed a consultant to develop a regional brand and consumer marketing strategy to launch into Australia when an airline is confirmed.

Thought it timely to update you on progress to date and how this will work together with the Rotorua brand.

At this stage the regions of Rotorua, Taupo, Tauranga, Ruapehu, Hawkes Bay, Coromandel, Waitomo and Gisborne are working collectively to both fund and implement consumer marketing activity into Australia. This is being co-ordinated via Rotorua Regional Airport's contractor Greg Menendez. Progress to date is that a regional brand and marketing strategy are being finalised. This will be based on marketing direct to end users based on their interests, i.e, fishing, spa, mountain biking etc.

A funding model is also being developed which will enable us as RTOs to invite industry to participate in marketing campaigns that are your target market.

From a Rotorua perspective, part of our Australia budget will be allocated to the collective regional brand and the remainder will be used to continue our trade activity and C & I activity in Australia.

If you have any queries at all about how this all works, please contact Ruth at the DRTM office.

TRENZ 2009 Update

TRENZ 2009 will be upon us in less than six weeks – 9-11 June 2009 hosted by Auckland The theme this year is "Get a real sense of NZ" year we have 15 operators exhibiting under the Rotorua banner and we have a nice new fresh, highly visual look for our stand.

At this stage we have 10 buyers registered to visit Rotorua pre and post TRENZ and they will visit those operators who are attending TRENZ in the first instance.

Don, Ruth and James from the office will all be in attendance, undertaking a double appointment stream for Rotorua. Make sure you keep us up to date of any new developments or products available so we can keep the Rotorua offering fresh.

Rotorua's message into the international market over the next 12 months will be all about extending length of stay – 3 nights is ideal, supporting IBO and trade with education of the destination's five key features – Maori Culture, Geothermal, Spa & Wellness, Adventure and Lakes and Forests. In addition, the launch of a new trade website will assist the many offshore trade with up to date information of Rotorua . Events, itinerary planning, 56 international ready product listings, trade events that Rotorua will be attending, new product updates, famil opportunities and much much more.

We encourage all Rotorua industry who are working in the international market to spend time with James in our office who can provide a 2 minute destinational Powerpoint highlighting our five key features, how to get here and other relevant information, we can also provide an information widget for your website and other destinational collateral for your use either offshore or with Inbound Operators.

Contact james@rotoruanz.com for more info.

Changes afoot at The Landing & Clearwater Cruises

Paul and Nicky Connell, owners of The Landing Lake Tarawera and Clearwater Cruises are heading back to Auckland to become full time managers of another of their businesses. Having owned Clearwater for several years Paul + Nicky took over the Landing Cafe last year, giving it a massive facelift and expanding the business to include a General Store.

"It's a shame to be leaving at a time when the businesses are starting to realise their potential and it has been a tough decision to make. However we're happy to reassure everyone that the operations will continue as always - you just won't be seeing our faces as often." says Paul.

"There are new package products coming into the market place and we'll be represented at TRENZ." Paul has fielded a few enquiries from parties interested in purchasing the businesses. While he'd be reluctant to let them go, now that the hard work's been done, if he finds the right buyers at least he'd feel comfortable knowing that the businesses could reach that next level and he could see his dreams for the The Landing Lake Tarawera achieved.

C&I Update

One Famil this month so far:

Robyn Zingler of Venues Galore was in town over Easter after meeting with the Bureau at Aime in February. Robyn had a good look around the city and was very impressed with what we have in such close proximity. She is going to recommend Rotorua as a destination for her Conference and Incentive clients.

Two Australian Incentive Groups have confirmed for later this year – good indication that business from Australia will be in high demand once we have a trans Tasman service.

Planning for Meetings is continuing and Ruth will be coming out to those that have booked for the Rotorua regional stand with further information shortly. For those not yet registered, these close end of this week.

Planning for the 09/10 year continues with a schedule being established for networking functions with industry partners. If you see value in joint product updates to clients or joint networking functions, please let Ruth or Melissa know.

Trade Familiarisations

6 - 8 March – Connections / Flight Centre, Australia
22/23 March – Pacific Destinationz Czech Famil
23 March – Pacific Destinationz Italian Famil

Media Update

Upcoming features include a Winter Escapes supplement in the Sunday Star Times, for which we have submitted editorial and images. Rotorua also featured in North and South and Weekend magazines during the past month, as well as the Sydney Morning Herald.

There are a lot of famils coming up, both domestic and international, so Justine will be in touch with operators the media is interested in visiting.

Check out the latest media results online at rotoruanz.com/media/results/

Some members of the TNZ media team have been undertaking self-famils of Rotorua over the past month. We look forward to hosting more of them down here. Any operators wanting to be considered for these famils should register their interest with Justine. Phone (07) 349 7286 or email justine@rotoruaNZ.com

For any operators sending out press releases, please ensure Justine is on your distribution list. Justine can forward these releases to media on our database and add them to the news section on our website to maximise coverage.

Visitor Activity Statistics

New Zealand Tourism Industry Monitor – Apr 09

On average, tourism industry monitor respondents reported a 4.1% decline in demand and 5.2% decline in profit for the three months ending 31 March 2009 over the same period of the previous year. For the three months commencing 1 April 2009 a 7.5% decline in demand and 8.8% decline in profit is expected over the same period of the previous year. There is a neutral outlook for both domestic and Australian inbound tourism. All major long-haul markets are expected to decline with the greatest pessimism around UK, US, Japanese and Korean markets. Regions hosting high proportions of domestic and/or Australian visitors are less pessimistic about their performance than regions with a heavy reliance on long-haul markets. Click here to view the full Tourism Industry Monitor for April 2009.

New Zealand International Visitor Arrivals (IVA) – Mar 09

International visitor arrivals to New Zealand for the month of March 2009 were down 9.7% over March 2008. Arrivals were up from China (up 9.3%). There were fewer arrivals from Australia (down 4.6%), UK (down 25.6%), USA (down 20.0%), Japan (down 11.8%), Korea (down 18.9%), Germany (down 5.1%) and Canada (down 13.8%).

Rotorua Commercial Accommodation Monitor (CAM) – Feb 09

Visitor nights spent in Rotorua commercial accommodation for the month of February 2009 were down 19.0% over February 2008 (versus -7.7% nationally) - domestic visitor nights were down 8.4% (versus -2.3% nationally) and international visitor nights were down 25.8% (versus -12.6% nationally). For the same period, backpackers were the only accommodation sector in Rotorua to have growth in visitor nights (+3.2%). Other Rotorua accommodation sectors had decreased visitor nights – hotels down 18.0%, motels down 26.5%, holiday parks down 21.0% and hosted down 7.8%.

Rotorua Attraction Monitor – Feb 09

Visits to Rotorua Attraction Monitor participant businesses for the month of February 2009 were down 17.8% over February 2008 - domestic attraction visits were down 12.9% and international attraction visits were down 19.2%.

Most of the tourism monitors are freely available by subscription and can be downloaded from rotoruaNZ.com.
For more information about Rotorua visitor statistics or to subscribe to any of the monitors please contact Gina on DDI (07) 349 7289 or gina@rotoruaNZ.com

Events - May 2009

45th Lion Foundation Rotorua Marathon
Sat May 2, 2009
The Lion Foundation Rotorua Marathon is New Zealand's largest marathon with more people running or walking this event each year than anywhere else in... More info...

Cateye Moonride
Fri May 8 – Sat May 9, 2009
The most amazing mountain bike event held in New Zealand's MTB Mecca the Whakarewarewa Forest in Rotorua. There are two event options, 12 hours or... More info...

Scott Big O Trail Run
Sat May 9, 2009
A 35km off-road run around the full circuit of Lake Okataina, Rotorua. There's a 19km option too, which start at the Rotorua end of the lake. A... More info...

The Pink Floyd Experience
Sat May 16, 2009
The Pink Floyd Experience is exactly what it says, an experience. Everything about this concert, from the spectacular light show and ... More info...

Colourplus Waikato Bay of Plenty Magic vs LG Northern Mystics
Mon May 18, 2009
The Colourplus Waikato Bay of Plenty Magic take on LG Northern Mystics in an ANZ Championship North Island battle which will be held at the Rotorua... More info...

The Beatlemaniacs - Anthology Tour
Sat May 23, 2009
Direct from the UK and from sell out performances at the 'Cavern Club', see and hear The Beatlemaniacs perform all of The Beatles' hits so well... More info...

N-Duro Winter Mountain Bike Series: Race 1
Sun May 31, 2009
The first race of the N-Duro Winter Mountain Bike Series. Race over a challenging terrain on a one lap course in the Whakarewarewa trail network.... More info...

For more information or to check out the latest events, go to rotoruaNZ.com/events

Dates for the diary

Blue = Destination Rotorua Marketing participation

2009

8 –11 June, TRENZ, Auckland

22 –23 July, Meetings, Auckland

20 –29 July, UK IMA Meeting, London

11 –12 August, ITOC Conference, Gisborne

7 –11 September, Kiwilink India, India

7–8 October, CINZ Conference, Blenheim

Recipient and sender details

We have collected your contact details. This information is collected to enable us to keep you up to date with tourism news pertinent to the Rotorua tourism market and keep you informed of the activities of the Destination Rotorua Marketing office. We will not disclose your contact details to third parties.

Ruth Crampton
Assistant General Manager
Destination Rotorua Marketing
Private Bag 3007, Rotorua
Phone +64 7 349 7280
Fax +64 7 349 4133
marketing@rotoruaNZ.com