| | |
| --- | --- |
| Please distribute to all staff | May 21, 2009 |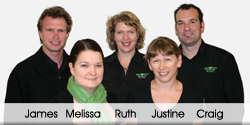 Kia Ora !*FIRSTNAME*!,
Planning, planning, planning is what we've been up to over the past wee while. A few different approaches are planned over the coming months as we tailor our message to the most appropriate consumers. This means identifying who our visitors are and what pushes their buttons to holiday here. With the advent of the website this makes the ability to speak directly to those who are interested in specific activities much easier and more affordable.
This strategy will influence the content of our website which we are currently working on as well as the media we choose to speak to them in. The markets most able to be reached directly are domestic and Australia so these are the focus going forward.
James has just returned from Kiwilink US and Canada where he was pleasantly surprised with the upbeat views of the operators there. The competitive airfares being offered from the US have certainly gone some way to stimulate that market so let's hope that continues. There are adhoc cancellations occurring on the LAX route but hopefully not enough to detract from NZ as a visitor destination. The other wee issue we have regarding the US market is the cancellation of the Qantas service between Rotorua and Christchurch. This is already affecting some serious business from the US who cannot access or afford to continue flying on this route. Don and the Tourism Board are addressing this currently so if you are aware of any other business that may be affected by this issue, please let Don know. don@rotoruaNZ.com.
Agroventures have decided to jump on the 40 Hour Famine bandwagon and will be offering the locals discounted ride prices during these times.
Friday 22nd 5pm through till Saturday 23rd 10am
Saturday 23rd 5pm through till Sunday 24th 10am
Cost: $20 per person per ride for Swoop, Shweeb, Agrojet, Freefall Xtreme Teaser, Bungy: $65.00 per person. (note Freefall Xtreme & Agrojet will be operating during daylight hours only for health and safety reasons). For more information visit rotoruaNZ.com
We have been busy with famils of recent times , which is great as the more exposure we can get for the region and products is great. A point to note, however is, please ensure that your front line staff are aware of familiarisations. We have had a few recently where visitors have arrived and nobody has known anything about their visit or they have not been met. It is essential to leave the best impression that visitors are met on arrival. If the key sales person can't do it, then ensure you have delegated that responsibility to someone else.
That's my moan for the month!!! Not that I do it every month, but the visitors we have at the moment need to be encouraged to stay here longer and to do that we need to promote the fabulous range of activities available.
Kind regards
Ruth Crampton
Assistant General Manager
DDI (07) 349 7280
In This Issue

Australian Marketing

As you will all agree, Australia is proving to be one of the few shining lights for visitor growth over the next few months. To maximise our exposure in this market, we are undertaking a few promotions that will get Rotorua in front of the consumers.

The Victorian Bushfire Appeal is continuing to raise funds and hopeful of bringing some victims over June / July
June / August sees a nationwide consumer promotion in conjunction with a key FMCG item through a supermarket chain and catalogues to 12 million Australian households.
James is currently working on a strategy for an online consumer campaign that will launch around August inviting Australians to enter a competition.
Our new PR Advisor - Hannah Blake is sourcing media to visit Rotorua using 5 different story angles.
Ruth is currently in Australia undertaking sales calls on all key wholesalers and C& I clients with potential to book business to Rotorua.
ANZCRO have recently advised a 32% growth in Rotorua nights as a result of the Autumn campaign we ran with them.
Tourism NZ are to advise their next steps in the What's On strategy which has been supported in the online space by Destination Rotorua over the past few years.


2009 Hutchwilco NZ Boat Show

As part of DRTM's Domestic activity Craig Hammond attended this years NZ boat show, held in Auckland, as a joint venture with Fish & Game. Promoting under the name Fish Rotorua the stand generated excellent interest targeting Aucklanders to fish the Rotorua region while also promoting the regions abundance of activities to keep partners and children entertained. Good numbers visited the stand with genuinely interested visitors staying for long periods.

While at the show Craig was also able to discuss other promotional opportunities for Rotorua. As a result the publisher for Propeller Magazine has agreed to come down for a photo shoot in July and include a destinational editorial piece on boating in Rotorua for the following issue of Propeller. In further relationship with Fish & Game we will be looking to host a live TV weather feed from the Blessing of the Boats this year as well as looking for further opportunities to work together in the future.

If you would like to be considered for Consumer Shows please let Craig know on craig@rotoruanz.com Alternatively if you are attending a consumer show, let us know if we can assist in any way or whether there is potential for a Rotorua presence next time.

C&I Update

Two Famil's this month so far:

Carol Kennedy, who won 2 nights in Rotorua at last years Auckland road show was in the city earlier this month and conducted a famil. Carol participated in the Rotorua Marathon, with 2 fractured wrists, and then spent a couple of days looking at options for her upcoming event in September this year.

Then on the 8-10th May we had a couple of representatives from Beca come down for a famil and they where suitably impressed with what Rotorua had to offer for their various upcoming events.

We have two more famils coming up before the end of the month and three more in June at this stage.

Meetings, planning is continuing with the stand and theming finalised. Ruth will email the participants with further information in the next few days.

Melissa spent a few days in Christchurch mid month conducting joint calls with Brett of Events & Venues. The mood from Event Organisers in the city was positive and Rotorua is still being looked at for various business events.

Melissa is away in Wellington this week, conducting joint call's with Rydges Hotel in Wellington.

Work on the Mega-Famil for August 2009 is continuing and the bureau will be arranging times to come out and see operators individually about the programme we want to offer. For the initial contact with clients in Auckland we have had approx. 60 expressions of interest. We have also placed an ad in the May issue of Meeting newz to try and get some new contacts. If any of you have any hot prospects, please contact Melissa confidentiality and we can give you an invite to send out, if we have not already contacted them.

Planning for the 09/10 year continues with a schedule being established for networking functions with industry partners. If you see value in joint product updates to clients or joint networking functions, please let Ruth or Melissa know.

Trade Familiarisations

23 - 25 April – Air New Zealand Concierge

27 - 29 April – TNZ UK TravelTrade

27 - 29 April – TNZ Korean FIT famil

8 - 11 May – Newmans Holidays

15 - 17 May – Newmans Holidays

18 - 20 May – TNZ Train the Trainer

Media Update

Things are extremely busy on the famil front, with several domestic and international media groups visiting over the next month. Justine will be in touch with operators the media is interested in visiting.

Australian media advisor Hannah Blake is working on several pitches so you can expect to see some good media heading across the ditch soon as a result.

G magazine in Australia visited Rotorua last weekend at our invitation. The famil focused on sustainability and was very successful, so we look forward to seeing a few great articles coming from there.

TNZ regularly asks us for information to include in media pitches, and we need to meet their deadlines in order to be included. So please respond promptly to any future requests from us to better ensure the TNZ media team is aware of your product/s.

There have been some great media results lately, and these can be viewed online at www.rotoruanz.com/media/results/

Some of the TNZ media team will be visiting Rotorua in August to famil new products, so please let Justine know if you are interested in being included. Only new products will be considered. Phone (07) 349 7286 or email justine@rotoruaNZ.com

For any operators sending out press releases, please ensure Justine is on your distribution list. Justine can forward these releases to media on our database and add them to the news section on our website to maximise coverage.

Visitor Activity Statistics

New Zealand Tourism Industry Monitor – May 09

On average, tourism industry monitor respondents reported a 2.7% decline in demand and 4.7% decline in profit for the three months ending 30 April 2009 over the same period of the previous year. For the three months commencing 1 May 2009 a 5.6% decline in demand and 6.6% decline in profit is expected over the same period of the previous year. The general outlook has improved relative to last month, with growing optimism for the domestic and Australian markets. Click here to view the full Tourism Industry Monitor for May 2009.

NOTE: The change in timing of Easter holidays from March in 2008 to April in 2009 needs to be considered when comparing figures for March 2009 with those for March 2009. The impact of the change in timing of the Easter holiday on the data cannot be quantified.

New Zealand International Visitor Arrivals (IVA) – Mar 09

International visitor arrivals to New Zealand for the month of March 2009 were down 9.7% over March 2008. Arrivals were up from China (up 9.3%). There were fewer arrivals from Australia (down 4.6%), UK (down 25.6%), USA (down 20.0%), Japan (down 11.8%), Korea (down 18.9%), Germany (down 5.1%) and Canada (down 13.8%).

Rotorua Commercial Accommodation Monitor (CAM) – Mar 09

Visitor nights spent in Rotorua commercial accommodation for the month of March 2009 were down 14.0% over March 2008 (versus ‑10.7% nationally) - domestic visitor nights were down 11.6% (versus ‑10.2% nationally) and international visitor nights were down 15.8% (versus ‑11.2% nationally). For the same period, no sectors of Rotorua commercial accommodation had positive growth in visitor nights – hotels down 10.1%, motels down 15.5%, holiday parks down 24.6%, backpackers down 9.4% and hosted down 14.8%.

Rotorua Attraction Monitor – Mar 09

Visits to Rotorua Attraction Monitor participant businesses for the month of March 2009 were down 19.1% over March 2008 - domestic attraction visits were down 15.4% and international attraction visits were down 20.3%.

Most of the tourism monitors are freely available by subscription and can be downloaded from rotoruaNZ.com.

For more information about Rotorua visitor statistics or to subscribe to any of the monitors please contact Gina on DDI (07) 349 7289 or gina@rotoruaNZ.com

Events - June 2009

Andrew Newton - International Hypnotist

Thursday June 4, 2009

NZ's favourite International Hypnotist is back! All your favourite scenarios and plenty of new ones. More laughs than you could imagine without... More info...

RATS Winter Duathlon Series - Race 1

Sun June 7, 2009

The RATS Winter Duathlon Series is back again this year! The 2009 series will start and finish at the Waipa carpark with a nice early start of 10am.... More info...

2009 Targa Rotorua

Fri June 12, 2009 - Sun June 14, 2009

2009 Targa Rotorua is expected to have around 100 rally cars racing through 334 kms of special stages over the weekend. Come along to the Show... More info...

Billy Ocean Live

Sat June 20, 2009

See him in Rotorua!! One show only!! Billy Ocean is the biggest black recording star Britain has ever produced, one who has sold over 30 million... More info...

Colourplus Waikato Bay of Plenty Magic vs LG Northern Mystics

Mon June 22, 2009

Colourplus Waikato Bay of Plenty Magic go head to head with the Canterbury Tactix which will be held at the Rotorua Energy Events Centre. Doors Open... More info...

Nature Valley N-Trail Run Series: Race 2

Sun June 28, 2009

The 2009 N-Trail 5 race Series will be held at various locations across the Bay of Plenty...there are short (5 to 10km), medium (10 to 15km) and... More info...

Rhapsody Rotorua 2009

Tuesday June 30, 2009 - Friday July 3, 2009

Rhapsody Rotorua is the foremost International Schools Music Festival in New Zealand. With hundreds of participants it offers 3 days of full on music... More info...

For more information or to check out the latest events, go to rotoruaNZ.com/events

Dates for the diary

Blue = Destination Rotorua Marketing participation

2009

8 –11 June, TRENZ, Auckland

22 –23 July, Meetings, Auckland

20 –29 July, UK IMA Meeting, London

11 –12 August, ITOC Conference, Gisborne

7 –11 September, Kiwilink India, India

7–8 October, CINZ Conference, Blenheim

Recipient and sender details

We have collected your contact details. This information is collected to enable us to keep you up to date with tourism news pertinent to the Rotorua tourism market and keep you informed of the activities of the Destination Rotorua Marketing office. We will not disclose your contact details to third parties.

Ruth Crampton
Assistant General Manager
Destination Rotorua Marketing
Private Bag 3007, Rotorua
Phone +64 7 349 7280
Fax +64 7 349 4133
marketing@rotoruaNZ.com