| | |
| --- | --- |
| Please distribute to all staff | June 17, 2009 |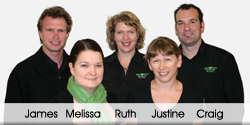 Kia Ora !*FIRSTNAME*!,
Just back from TRENZ in Auckland (of course not as good as Rotorua!!!). But seriously the new venue worked very well and the movement of start and finish times helped avoid the traffic congestion to and from the venue, so ten marks to the person who thought of that.
15 operators exhibited on the Rotorua stand, a bright green, highly visual stand that received many positive comments. I even got the handycam out so those of you who couldn't be there can see what we looked like. View Rotorua TRENZ stand here.
Appointments were solid but there is no doubt that times are a little difficult out there. Positive signs of improvement in some markets and the arrival stats out of Australia for April were very heartening. The launch of the new trade section of our website was very well received with many useful tools that will make things a lot easier for our trade partners in all corners of the world.
At this time of year we normally come out to you with our marketing opportunities guide, detailing activity planned for the 12 months ahead. This year we have that information for you online and with a fair bit of change (see stories below) going on with our print collateral, this has taken quite a different shape. In a nutshell, at this stage we are only contracting advertising on our website and for all other activity we are taking Expressions of Interest to be involved, and then closer to the publication date, we will be in touch directly to give you more information. Visit the Marketing Opportunities page here to find out more.
Our domestic media plan is now complete and we're keen to go through that with any operators working in the domestic market that might like to piggy back off that activity. Our media placement agency – Flame, are happy to meet with operators advertising in the domestic space to ensure the mediums selected suit your target market. Email craig@rotoruaNZ.com for their details or to discuss the domestic schedule further.
Part of our strategy has been to familiarise the Intercity coach drivers who bring passengers into Rotorua. We've had a good uptake with about 10 drivers and their partners through to experience product and accommodation in Rotorua with more coming through before the summer season starts again in September. The next phase of the Intercity famil programme will be to bring their call centre team through and Craig is working with them on that.
We started TV advertising again on Sunday with a slightly different version of the family commercial we have been running. Click here to view the new version.
And finally to let you all know that I have resigned my position here as Assistant General Manager, effective 28 August. I've decided to take time out and spend it with my daughter Lucy. I've loved every minute of my time at DRTM and hope to catch up with most of you before my departure.
Kind regards
Ruth Crampton
Assistant General Manager
DDI (07) 349 7280
In This Issue

Website Listings due for renewal

Since its major revamp and re-launch in January '08, Rotorua's official rotoruaNZ.com website has continued to evolve; expanding and adding new features to enhance usability for browsers while adding value and building additional traffic for advertisers. This has resulted in an increase in traffic for the June '08-May '09 period compared to the previous year:

Visitors increased by 39% (up 124,546 to 442,228)
Absolute Unique Visitors increased by 39% (up 92,314 to 324,701)
Pageviews increased by 41% (up 930,000 to 3,195,924)

Premium full page listings are now up for renewal.

A premium full page listing on the main rotoruaNZ.com site offers even better value-for-money this year with no additional fee to load a supplied 30-second video clip* (usual cost $50 plus GST), a wider spread of the five category choices including one foreign language sites (previously $100 plus GST per category) and the ability to purchase additional categories at a 50% reduction compared to last year ($50 + GST per category).

Cost: $350 plus GST pa

Australian Consumer Promotion

Rotorua will be featured through Australian supermarket chain IGA, later this month in a month long promotion to win one of four family holidays to Rotorua.

By purchasing two Schweppes items, the consumers can then enter the draw to win. At the same time the Supermarket owners are encouraged to dress up their Schweppes stands with imagery and Rotorua theming. The best store per state will then win an incentive trip to Rotorua in December 2009.

To complement the promotion, a nationwide brochure drop of 12 million brochures will be undertaken to letterboxes featuring the Rotorua prize.

Jasons Joint Venture

Destination Rotorua Tourism Marketing will merge the Rotorua Visitor Guide with the Jasons new What's on guide effective December 2009.

The opportunity came about as DRTM were fielding calls from operators lamenting the fact that they are constantly bombarded with advertising opportunities. The decision to combine the two publications that were effectively doing the same thing, was a simple solution. The joint venture was signed at TRENZ last Thursday between Don Gunn , GM DRTM and Matthew Mayne the CEO of Jasons. See Daily Post Media Result here.

The relationship allows editorial contribution from DRTM as well as a greater national distribution. Part of the new relationship also allows for a month of advertising on the Jasons website which will be taken up for the month of July.

The current Event brochure will also cease operation as the What's on publication offers quarterly event listings and will be used as the key event piece for Rotorua moving forward.

Advertising for the new joint publication will commence in August and will be promoted via the current Jasons sales representative – Sharon Murray.

If you have any questions, pleas contact ruth@rotoruaNZ.com

Rotorua Wearable Creations & Colour Awards

A charitable wearable arts style fashion show, the Rotorua Wearable Creations 'n Colour Awards showcase the talent of many people from throughout the Bay of Plenty region.

The event celebrates the creativity of communities and helps build the confidence and self-esteem of many young people in particular.

Now in its fifth year, it has become one of THE events on the Rotorua events calendar.

The Awards evening is full of fun and festivity, music and dance, and of course, wonderful and sometimes weird, colour creations.

Enter your very own creation. Check out the website for all details. wearable.com Great team building!! Join Master of Ceremonies, Frankie Stevens and be prepared for a wonderful evening full of fun, music, colour and entertainment.

C&I Update

Two Famil's have been thru since the last update:

Claire Tuer of Restaurant Brands and Heike Albrecht and Pamela Hyde of the NZ Psychological Society.

The Psychological Society has confirmed their event for Rotorua for 2010.

The Bureau was also pleased to be involved with the famil earlier this month with Historic Venues (The Blue Baths). Feedback received has been wonderful and it is great to see clients buzzing about the city.
If any other operators are looking at hosting guests, please let the Bureau know, as we would love to support these sorts of initiatives.

At this stage we have three more famils coming to Rotorua in June, with another in July and September.

A Meeting has been set with those participating on the Rotorua stand at this years Meetings 2009 on Wednesday at 2.30pm to discuss finer details. We look forward to seeing you there.

Work on the Mega-Famil for August 2009 is continuing. We have been out to see most of you involved in the programme with Melissa finalising final catch-ups this week.
The invitation is going to be sent out early next week, so we will keep everyone updated on the responses as we move forward.

Planning for the 09/10 year continues with the schedule for networking functions with industry partners taking shape. If you see value in joint product updates to clients or joint networking functions, please let Ruth or Melissa know.

Reminder on imagery – If you have any fabulous new shots that you are happy for the Bureau to use in publications and on the website, please contact Melissa or Ruth as we are always looking for fresh imagery.

Trade Familiarisations

19-21 May - Air NZ Train the Trainer, New Zealand

21-23 May - ANZCRO / Jetset, Australia

6 - 7 June - Pre TRENZ famil, Various

11 - 12 June - Air NZ Holidays, New Zealand

12 - 14 June - Post TRENZ, Various

Media Update

Things are extremely busy on the famil front, with several domestic and international media groups visiting over the next month. Australian media advisor Hannah Blake has successfully pitched Rotorua to a Men's Fitness journalist and this famil will take place next month, with an itinerary already finalised.

Justine is working with several accommodation providers on media famils and we are getting some great results from these. Please contact her if there are any media you'd like to target. We're happy to make activity arrangements if required.

We continue to see great media results, and these can be viewed online at rotoruanz.com/media/results/. Sky TV netball show On Court's footage of Rotorua is the latest result to go online.

Some of the TNZ media team will be visiting Rotorua in August to famil new products, so please let Justine know if you are interested in being included. Only new products will be considered. Phone (07) 349 7286 or email justine@rotoruaNZ.com

Visitor Activity Statistics

New Zealand Tourism Industry Monitor – June 09

June survey results were not available at time of publication. Click here to view the Tourism Industry Monitor for May 2009 and to link to the June results, which will be available soon.

New Zealand International Visitor Arrivals (IVA) – Apr 09

International visitor arrivals to New Zealand for the month of April 2009 were up 9.2% over April 2008. Arrivals were up from Australia (up 22.8%), UK (up 1.0%), USA (up 1.4%), Germany (up 31.2%) and Canada (up 6.2%). There were fewer arrivals from China (down 6.0%), Japan (down 15.7%) and Korea (down 45.5%).

Rotorua Commercial Accommodation Monitor (CAM) – Apr 09

Visitor nights spent in Rotorua commercial accommodation for the month of April 2009 were up 6.1% over April 2008 (versus +4.3% nationally) - domestic visitor nights were up 14.6% (versus +9.0% nationally) and international visitor nights were down 3.5% (versus ‑2.1% nationally). For the same period, sectors of Rotorua commercial accommodation with positive growth in visitor nights were holiday parks (up 39.7%), motels (up 6.5%) and hosted accommodation (up 2.2%). Sectors with negative growth were hotels (down 2.1%) and backpackers (down 2.3%).

Rotorua Attraction Monitor – Apr 09

Visits to Rotorua Attraction Monitor participant businesses for the month of April 2009 were up 2.6% over April 2008 - domestic attraction visits were up 28.3% and international attraction visits were down 9.0%.

NOTE: The change in timing of Easter holidays from March in 2008 to April in 2009 needs to be considered when comparing figures for April 2009 with those for April 2008. The impact of the change in timing of the Easter holiday on the data cannot be quantified.

Most of the tourism monitors are freely available by subscription and can be downloaded from rotoruaNZ.com.

For more information about Rotorua visitor statistics or to subscribe to any of the monitors please contact Gina on DDI (07) 349 7289 or gina@rotoruaNZ.com

Events - July 2009

Rhapsody Rotorua 2009

Tuesday June 30, 2009 - Friday July 3, 2009

Rhapsody Rotorua is the foremost International Schools Music Festival in New Zealand. With hundreds of participants it offers 3 days of full on music... More info...

Women's Lifestyle Expo

Saturday July 4, 2009 - Sunday July 5, 2009

A great day out for women! The Women's Lifestyle Expos have been well anticipated weekends in New Zealand since 1996. Held as annual events in... More info...

RATS Winter Duathlon Series - Race 2

Sunday July 5, 2009

The Rats Winter Duathlon Series is back again in 2009...The courses are fully off-road and there are a choice of short or long distances. Short:... More info...

N-Duro Winter Mountain Bike Series: Race 2

Sunday July 12, 2009

The second race of the N-Duro Winter Duathlon Series. Race over challenging terrain on a one lap course of the Whakarewarewa trail network. There... More info...

Rotorua Music Federation - Jonathan Besser & Miranda Adams

Saturday July 25, 2009

The Rotorua Music Federation (Inc) . Our focus is on high-quality performance, which usually performed by professional musicians. Although many of... More info...

BOP Steamers vs Northland

Friday July 31, 2009

The Steamers are the flagship team of the Bay of Plenty Rugby Union. Bay of Plenty's top team were the inaugural winners of the first ever NPC is... More info...

For more information or to check out the latest events, go to rotoruaNZ.com/events

Dates for the diary

Blue = Destination Rotorua Marketing participation

2009

22 –23 July, Meetings, Auckland

20 –29 July, UK IMA Meeting, London

27 – 31 August, Newmans Roadshow, Australia

11 –12 August, ITOC Conference, Gisborne

17 – 21 Aug, Australian Frontliner Training, Brisbane / Sydney

20 – 21 Aug, Auckland C & I Mega Famil, Rotorua

1 – 5 September, SE Asia Trade Training, Singapore / Thailand

7 –11 September, Kiwilink India, India

7–8 October, CINZ Conference, Blenheim

Recipient and sender details

We have collected your contact details. This information is collected to enable us to keep you up to date with tourism news pertinent to the Rotorua tourism market and keep you informed of the activities of the Destination Rotorua Marketing office. We will not disclose your contact details to third parties.

Ruth Crampton
Assistant General Manager
Destination Rotorua Marketing
Private Bag 3007, Rotorua
Phone +64 7 349 7280
Fax +64 7 349 4133
marketing@rotoruaNZ.com