January 27, 2011
Kia Ora !*FIRSTNAME*!,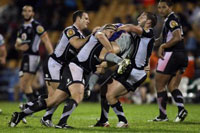 Ever wanted to be part of the pre-game entertainment for thousands of screaming rugby league fans?
Well this opportunity will definitely make your mates envious for years to come.
Nzone Skydive is teaming up with the NRL to provide one hardcore rugby league fan with the opportunity to freefall at 200kph and land in the centre of Rotorua International Stadium - just in time to watch the Vodafone Warriors take on the Parramatta Eels on Saturday February 12.
This amazing opportunity is to be auctioned by Nzone Skydive on Trade Me to raise money for charity.
In addition to Nzones' 15,000ft tandem skydive and a free pass to the game, the winner of this auction will also have a personalised freefall photographer taking pictures and video footage of the experience so you can re-live the excitement over and over again.
All funds raised will go to the BayTrust Rescue Helicopter in Rotorua, so not only are you paying for the opportunity to be part of a once in a lifetime adrenaline packed day, all the money will go to helping save lives!
The Nzone Skydive auction goes live at 7pm on Friday January 28, 2011, and will close at 7pm on Sunday February 6.
Key Details:
Retail Value of Nzone 15,000ft tandem skydive plus freefall photography and video is $648.00
Retail value of a grandstand ticket for the Warriors vs Eels game is $25.00
Winner will need to meet at Nzone Skydives' Rotorua Dropzone at 3pm - 12th Feb 2011
Transport will be provided back to the Dropzone after the game
In case weather conditions are not suitable, the winner will receive a free pass to the game and a tandem skydive voucher to be used at a later date
Tandem skydive weight limit is 100kg
For further information on the skydive and auction contact:
NZONE SKYDIVE
Sarah Christie
Sales
tel: +64 7 345 7520
mob: 021 325 961
sales.rotorua@nzone.biz
www.nzone.biz
recipient and sender details

We have collected your contact details. This information is collected to enable us to keep you up to date with tourism news pertinent to the Rotorua tourism market and keep you informed of the activities of the Destination Rotorua

We will not disclose your contact details to third parties.

Jane Hope
Media Advisor

jane@rotoruaNZ.com
DDI +64 7 351 7103
Cell +64 27 674 1895