| | |
| --- | --- |
| Please distribute to all staff | April 19, 2011 |
Kia Ora !*FIRSTNAME*!,
A very busy month has passed since our last newsletter, as you will discover when reading this issue.
The Rotorua Tourism Committee and DRTM team have been working hard on the development of a three year Strategic Plan. The plan's key goals focus on growth opportunities identified by the committee in their draft strategic plan, which has been developed in consultation with DRTM and local tourism operators.
The goals aim to take advantage of shifting international tourism trends, increase the volume of domestic traffic travelling to the region, strengthen the positioning of the Rotorua destination brand and work in a more partnership orientated way with the Rotorua tourism industry.
DRTM's seven key goals for the forthcoming 12 to 18 months are:
Aggressively target and grow the Asian visitor market – specifically China;
Grow and increase Rotorua's share of the Australian visitor arrivals to New Zealand – especially off peak;
Increase the average room nights and spend to equal the national average for both international and domestic visitors to Rotorua;
Increase the Auckland visitor market by 3% - 30,000 visitor nights;
Take a leadership position in online marketing and travel search;
Create value and work in partnership with Rotorua region operators;
Increase ease of access to Rotorua as a visitor destination.
The full plan will be submitted for consultation next month.
Details of the goals and top line strategies were circulated to industry and reported on in local media recently. If you did not see them, please get in touch.
DRTM has also recently launched an aggressive online campaign targeting Australians, particularly Sydneysiders. This was done in collaboration with Tourism New Zealand and other industry partners. It's still early days but it appears to be tracking well: more details from James Fitzgerald later in this issue.
Preparations for the C&I MEETINGS trade show to be held here in Rotorua are progressing well, as are Rotorua's preparations for TRENZ in Queenstown. A full update on MEETINGS is provided by Denise Siviter in this issue.
It's encouraging to see the commencement of airline activity from Asia: China Southern Airlines – Guangzhou-Auckland; China Airlines –-Taipei-Auckland; Air Asia X –- Kuala Lumpur-Christchurch; and Jetstar – Singapore-Auckland. These services will certainly be beneficial for Rotorua. And Denise has some exciting information about one of these services later in this issue!
Having just flown the Jetstar Auckland-Singapore return route, I was impressed with the comfort of the aircraft, service and, indeed, loadings.
In last month's newsletter, we introduced a newsletter feedback survey. We really value your input and would appreciate you taking the time to complete it. It will assist us in improving our monthly newsletters and making sure they are relevant to you. Access to the survey is included below.
I hope you find this month's newsletter interesting.
Regards
Don Gunn
General Manager
don@rotoruaNZ.com
Newsletter Feedback
We aim to provide an informative newsletter that is relevant to the Rotorua tourism industry. To help us achieve this, you are invited to complete a quick 'checkbox' survey and provide feedback, which will be considered for future editions of the newsletter.
Click here to complete the survey and provide feedback.
In This Issue
International Update
James Fitzgerald
International Sales Manager
james@rotoruaNZ.com - DDI: +64 7 351 7108
Australia Visit
On the weekend of 24th – 25th March, Joey Rihari and I promoted Rotorua at the Sydney Consumer Expo. Numbers were down on previous years to around 10,000, but the show always proves valuable for understanding where Rotorua and the North Island fit within people's travel plans. It is also always positive to meet those who have returned from Rotorua holidays and share their experiences.
Tourism New Zealand Market Insights
Joey and I also attended this Sydney event to hear Tourism New Zealand's insight into the marketplace. Guest speaker was Owen Eagles from ANZCRO, who gave a rather sobering account of how the Christchurch Earthquake impacted their business. Always positive, Owen predicts things will right themselves going into summer 2011/2012.
We also held one-to-one meetings with 28 Australian travel companies, exploring ways we can help them sell more visitors, staying for longer, into Rotorua.
Australian Consumer Campaign
The Australian online consumer campaign has been live for almost two weeks, and as of 18 April, 5,827 unique users had visited the campaign site. Trends are being monitored so we can tweak the site where necessary to improve results. More comprehensive updates will be available further into the campaign.
Familiarisations
DRTM continues to encourage and co-ordinate famils coming into the region. This month we hosted in excess of 40 agents from travel agencies, wholesalers, inbound operators and online companies.
China Southern Airlines Delegation
Unfortunately, the China Southern Airlines delegation that recently arrived on the inaugural Guangzhou flight was unable to squeeze Rotorua into their limited itinerary. While this was disappointing, we still delivered a gift from Rotorua, mayoral letter and translated booklet on our wonderful tourist attractions to each member of the delegation.
Opportunity: Expedia
If you are an accommodation provider and would like to be listed on the world's largest online travel agency, get in touch with Expedia. It is free to join, with commissions of 10% for Australian and New Zealand sales and 25% for all other markets. Expedia has colossal reach through travel agencies and online affiliate websites. If interested, get in touch with Louis at the contact details below:
LOUIS MAVRAIDIS
Business Development Manager, Oceania
Partner Services Group
lmavraidis@expedia.com
Domestic Update
Craig Hammond
Domestic and Events Coordinator
craig@rotoruaNZ.com - DDI: +64 7 351 7102
Rotorua to Attend Auckland Boat Show
DRTM will be at the Hutchwilco NZ Boat Show in May. Our joint stand with Fish & Game Eastern Region will help promote Rotorua as a holiday destination, especially for fishing within the region. Over 30,000 people are expected to attend this four day show.
DRTM RWC 2011 Activity Update
A new, dedicated RWC2011 landing page is now live on Destination Rotorua's website.
The main message highlights Rotorua's central location in the North Island as an ideal base. It has also been designed to act as an easy interface for RWC visitors to find the information they need when planning their visit.
Two promotional pages of content and images on Rotorua have been submitted to the Official Travel Guide RWC2011, with other pages being supported by local operators.
Advertising has also been secured in match day programmes for all Auckland RWC 2011 matches, including games reallocated from Christchurch. This gives Rotorua great presence in a total of 15 Auckland match day programmes
Media continues to be a key focus, and DRTM has been involved with 13 media familiarisations in Rotorua to date. Some of these involve media with global audience reach, such as the IRB Total Rugby show.
DRTM communications are ongoing with Official Travel Agents, and meetings with some Australia-based OTAs were held in early April. Fantastic news from one French-based OTA: they sold out of Rotorua and had to find another 600 beds they were not expecting!
Community engagement proposals, including tourism for visiting teams, have been finalised and submitted earlier this month. From there the teams' liaison will review along with their training and match day obligations to assess free time possibilities.
The RWC 2011 Nationwide Roadshow & 100 Days to Go promotion will hit Rotorua on 21st July. The event will be covered by TVOne's Breakfast Show, with Tamati Coffey doing a live feed from Rotorua.
2011 Xterra Rotorua Festival
This was one of DRTM's targeted events for promotion assistance this year, and it was pleasing to see total numbers were up approximately 15 per cent. TV3 also provided good coverage within their sports news broadcast.
Rotorua Convention Bureau
Denise Siviter
Rotorua Convention Bureau Manager
denise@rotoruaNZ.com - DDI: +64 7 351 7106
MEETINGS 2011
The countdown is on to the MICE market's biggest trade show in NZ. It's the first time Rotorua has hosted Meetings, and the opportunity to showcase the region is very much the Rotorua Convention Bureau's (RCB) focus.
With well over 90 Australian buyers registered already, it is proving a great choice for Aussies. We had an amazing response to an email sent recently to our Australian database of approximately 900: not only from those registering but also from those who cannot make it but wishing Rotorua well. It shows how important it is to put some of the other regions in the mix for these types of events.
RCB has been working closely with CINZ to finalise the social events, accommodation, familiarisations and other behind the scene details necessary to showcase Rotorua's best. We have a great line up. CINZ has confirmed Tuesday night's Welcome Function will be at Skyline. Wednesday evening will be a sophisticated, blues-themed dinner at the spectacular Blue Baths, hosted by RCB. The final night, where everyone gets to party, is being themed by our local team, Jacqui and Jeff, from Event Impressions. This gala event at the Energy Events Centre is guaranteed to please.
RCB will host four famil programmes on Friday, including dinners at different locations. All programmes have been thoroughly considered to ensure hosted buyers have opportunity to select what best suits their requirements. Saturday's final event is a hosted lunch for those buyers still with us, before departing.
Response from operators has been greatly appreciated. It endorses Rotorua is a strong contender in the MICE market, and that we work extremely well together as a destination.
A new look for Rotorua will be unveiled at MEETINGS: our region has been long overdue a united, professional presence. MEETINGS is the perfect time to launch our new, sleek, corporate destinational stand promoting a true Rotorua flavour. Operators exhibiting with Rotorua are: Events and Venues; Blue Baths; Agrodome; Agroventures; Te Puia; Skyline, Rainbow; Mitai; Princes Gate Hotel; Rydges Hotel; Distinction Hotel; Novotel; and Millennium. Rotorua will also have a couple of key operators exhibiting nationally, including: Event Impressions; Sudima; and Holiday Inn.
For more information on MEETINGS 2011 go to the website meetings.co.nz
Australia
Debbie has been working on joint sales calls in the Australian market with several key Rotorua operators, including Marija Gecan (Novotel). Marija's calls also included Hannah Colhart (Venture Hawkes Bay). This particular relationship works well: the chance to talk to clients jointly about Rotorua and Hawkes Bay for incentive group/pre and post travel demonstrates how these regions complement each other beautifully.
As a result of this collaboration, one client has requested a full proposal for a 100-strong incentive group over three nights Rotorua/one night Hawkes Bay.
Several quotes have also been requested from joint sales calls.
Sydney clients are well aware of the direct flights, and many are putting Rotorua forward in competition with other major regions: Auckland, Wellington and Queenstown.
This is the first chance some operators have had to see first hand the work being done in the Australian market. A plan is being developed that will help industry plan their sales visits around what we are doing. This will be available in the next six-eight weeks.
Lyn Symonds from Air NZ has also been on joint sales calls. It is great to have Air New Zealand onboard to speak with clients about what can be offered in terms of flights.
A couple of times a year, RCB runs famil reunions to catch up with those who have previously participated on famils from Australia to Rotorua. The first for 2011 was recently held at the Cruising Yacht Club Australia, and was attended by Skyline's Lynley Martin and Steve Emery from Distinction Hotel.
New Zealand
The last newsletter saw Melissa and five operators heading to Auckland to update corporate businesses. The result was a quote and a couple of famil requests. Melissa has just returned from Wellington and, once again working with corporates and government clients, has had a great response, with some business and famils in the pipeline.
The domestic market has been a little slow following the Christchurch earthquake. However, if you get out there, there are still businesses looking for destinations to conference.
Convene - Auckland
While in Auckland recently, I caught up with operators at Convene. This local trade show generally includes those with a service to offer but who cannot make MEETINGS. The Auckland Convene only allows operators from the Auckland, Northland and down to the Hamilton regions. It was good to see first hand how this works, and discussions are under way for the Central Park region to look at a similar show in 2012.
However I was caught out having some fun with the Irish Rugby team …
China Southern Airlines
Also while in Auckland I attended the celebration dinner for China Southern Airlines' inaugural Guangzhou to Auckland flight.
Exciting news for NZ at this lavish affair was the announcement that the three times weekly flights will become daily within three months. The airline also announced plans to operate connecting flights to London. The airline estimates an additional 25,000 visitors and $75m boost to the economy.
This is a great opportunity for the incentive market, an area that RCB will be closely working on with TNZ to secure business for Rotorua.
With many changes and new emerging markets in the incentive arena, it is important these guests get to experience more than a standard tour package. It is our job to educate those bringing these top-end guests to NZ. RCB will be talking to operators over the coming months about how we can give clients the best incentive experience possible.
Media Update
Jane Hope
Media Advisor
jane@rotoruaNZ.com - DDI: +64 7 351 7103

First, I would like to acknowledge the kind comments received since my "Incident": they were really appreciated. It's good to be back on board, but my feet have not touched the ground since resuming work!
In Essence
We are aiming to have the next issue of In Essence ready in time to be distributed at TRENZ in May. If you have any news you want included, we might be able to squeeze you in, but copy and hi res photos are needed by tomorrow. It's a great opportunity to gain exposure to more than 280 international travel buyers.
Society of American Travel Writers
We are working with TNZ on the Society of American Travel Writers' pre and post conference tours in November. While we have developed fantastic itineraries for our region, we are still looking at costs. Currently, Rotorua is coming in more expensive than tours to other regions, which could put members off signing up for ours. I'm working on how we can be more competitive so we don't miss this opportunity to blow these - incredibly influential - guys away with our region. Hopefully I'll have good news next month.
Media Familiarisations
Media familiarisations are hotting up, especially from the Australian market. There are opportunities for getting television programmes from three different Australian networks to Rotorua, which ties in nicely with our goal to target our trans-Tasman neighbours. There are also a few Australian print media famils in the pipeline, one of which will give me a chance to meet a Lonely Planet contributor – he's not here working on that publication, but I am excited about making the contact.
We're also working with the New Zealand Herald to do a Rotorua famil during the winter months, with the intention of not just running an article but also a competition to win a short break here.
Another exciting development is that members of the TNZ media team will be coming to Rotorua in late June to do a famil. Keeping TNZ in the loop with all the wonderful things going on here is key to ensuring Rotorua stays front of mind in the International Media Programme, so this is something else I'm thrilled about.
I will be in touch with many of you in due course about these famils – your help, as always, is appreciated!
On that topic, I know all of you are keen to be involved in media famils, and we do try to spread them round as much as possible. However, we have to take into consideration the story angle, the demographics/audience stats, how much time they have here (typically very little!) and what individual journalists ask to see – we can advise and cajole, but if they are determined to see a, b and c, there's little we can do to send them to x, y and z!
Rugby World Cup
Last week, I received TNZ's strategy for media around the Rugby World Cup, which asks DRTM and other RTOs to put forward unique story angles and ideas that will encourage international media groups to visit the regions. This is a priority for us: if you have any ideas of your own, do get in touch. This is a unique chance for Rotorua to shine in front of the world's media.
Media Releases
We are now sending electronic media releases to our industry database as well as media – you may have seen several recently. That is to keep you all abreast of DRTM breaking news. If you would prefer not to receive these releases, please let me know.
How to Setup Facebook Places for Businesses in NZ
Adrian Hodge
Web Development Co-ordinator
adrian@rotoruaNZ.com - DDI: +64 7 351 7105
Facebook rolled out 'Places in New Zealand' in early March.
This allows anyone with a GPS-enabled smartphone to 'check-in' to your business. Your business is then instantly posted to their wall, along with any of their friends' walls who they tag during check-in. This is a great way to build exposure for your business and increase foot-traffic.
Access Facebook Places on your web-enabled smartphone from: touch.facebook.com
or via one of these dedicated Facebook Apps: iPhone, BlackBerry, Android, HP webOS or Windows Phone 7.
What is Facebook Places?
Facebook defines Places as: "a Facebook feature that allows you to see where your friends are and share your location in the real world. When you use Places, you'll be able to see if any of your friends are currently checked in nearby and connect with them easily. You can check into nearby Places to tell your friends where you are, tag your friends in the Places you visit, and view comments your friends have made about the Places you visit. Use Places to experience connecting with people on Facebook in a completely new way".
Okay, so how do you go about getting your business listed?
Step 1. Check if Your Place Exists
Search for your business name on Facebook via the normal Search bar. If it already exists as a Facebook Place, click on it to visit the page and continue from step 3.
If your business does not currently exist on Facebook, continue from step 2.
Step 2. Create a Facebook Place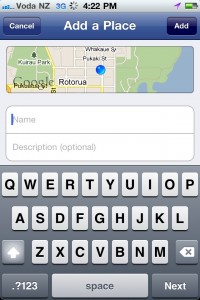 To create a new place, follow these steps:
Access the Places application on your supported device.
Click "Check In"
Enter your "business name" in the search box as you'd like it to appear on Facebook.
Click the Add "business name"... link below
Check your business name is correct and enter an optional description. Then click the "Add" button at the top right of the screen.
You will then have the option to both write a description of what you are doing at the new Place, and/or tag your friends there.
Click the "Check In" button to share your visit.
The default location for any new Place you create will be where you are currently located. Keep in mind that any Place you create is public. This means that other people may see your created Place while browsing Facebook or the Places application.
Step 3. Claim Your Facebook Place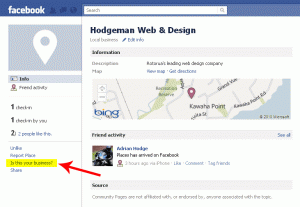 To claim your Facebook Place, search for your business name on Facebook via the normal search bar. If your business already exists as a Facebook Place, click on it to visit the page.
At the bottom left side of your Place, there will be a link asking "Is this your business?" Click on this link and follow the steps.
Facebook will ask you to verify that you are the owner through a phone verification process, or you may be asked for document verification. If your claim is confirmed, you will be able to admin your Place on Facebook.
Step 4. Merge Your Facebook Place and Existing Facebook Page
[NOT CURRENTLY AVAILABLE]
Once you've successfully claimed your Facebook Place, you can merge it to your existing Facebook Business Page.
Visit the Place that you have successfully claimed, and scroll to the "Merge with existing Page" link in the left side navigation menu. Click this link, and a prompt will appear to walk you through the process.
Step 5. Offer Deals to Customers via Your Facebook Place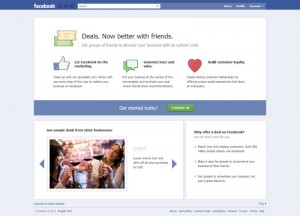 [NOT YET AVAILABLE IN NZ]
By offering Deals through your Facebook Place page, you're instantly connecting with potentially thousands of people who have a smartphone and are using Facebook while near your location.
If you're offering a Deal, you instantly stand out from the rest of the Places nearby, so will attract more views and encourage more people to visit your business to redeem their Deals.
Hopefully that's enough to get you started on Facebook Places. We welcome any comments or feedback.
Visitor Statistics
Gina George
Research Co-ordinator
gina@rotoruaNZ.com - DDI: +64 7 351 7109
Rotorua Airport – Trans-Tasman Passenger Movements
(Source: Statistics NZ – External Migration)
Inbound trans-Tasman passenger movements from Sydney to Rotorua for the month ending January 2011 were up 18.1% over January 2010 – Australian visitor arrivals were up 37.9% and returning New Zealand residents were up 11.2%.
For the same period, outbound trans-Tasman passenger movements from Rotorua to Sydney were up 34.1% - Australian visitor departures were up 56.9% and New Zealand resident departures were up 15.3%.
Rotorua Airport – Domestic Passenger Movements
(Source: Rotorua International Airport)
Inbound domestic passenger movements from other parts of New Zealand to Rotorua for the month ending January 2011 were up 11.1% over January 2010 - arrivals from Auckland up 11.6%, Wellington up 2.6%, and Christchurch up 16.0%.
For the same period outbound domestic passenger movements from Rotorua to other parts of New Zealand were up 16.5% - departures to Auckland up 12.4%, Wellington up 5.9%, and Christchurch up 24.8%.
Rotorua Commercial Accommodation
(Source: Statistics NZ - Commercial Accommodation Monitor)
Visitor nights spent in Rotorua commercial accommodation for the month ending January 2011 were down 3.4% over January 2010 (versus -2.3% nationally) - domestic visitor nights were down 2.7% (versus -2.6% nationally) and international visitor nights were down 4.2% (versus -2.0% nationally).
For the same period, only the hotel sector had increased growth in visitor nights (+0.8%). Holiday parks had static growth (0.0%) and Rotorua's other accommodation sectors had negative growth: motels (-3.7%) and backpackers (-25.0%). View the latest Rotorua Commercial Accommodation Monitor.
Delayed release - The Commercial Accommodation Monitor (CAM) for the period ending February 2011 was due for release on 12 April. However, CAM is prepared in the Statistics NZ Christchurch office and consequently the earthquake has delayed its release until 2 May 2011.
Rotorua Visiting Friends & Relatives
(Source: APR Consultants – Rotorua Private Homes Monitor)
Visitor nights spent in private homes of Rotorua residents for the month ending January 2011 were down 8.8% over January 2010. Domestic visitor nights were down 18.4% while international visitor nights were up 27.6%. View the latest Rotorua Private Homes Monitor.
Rotorua Attractions & Activities
(Source: APR Consultants – Rotorua Attractions & Activities Monitor)
Visits to Rotorua Attraction & Activities Monitor participant businesses for the month ending January 2011 were down 2.2% over January 2010. Domestic visits were down 11.5% while international visits were up 2.2%.
The full Rotorua Attractions & Activities Monitor is only available to participant businesses, but summary data is available in the Rotorua Tourism in Focus report
For more information and/or to subscribe to Rotorua tourism monitors please contact Gina on (07) 351 7109 or gina@rotoruaNZ.com
Destination Management
Draft Annual Plan 2011-2012
Each year, local governments consult with their communities about activities planned for the coming year. Rotorua District Council's draft Annual Plan 2011-2012 is now out for public consultation until 4pm on Tuesday 3 May 2011. This is your chance for your suggestions to be considered for action during the coming year. All submissions are considered and, as the saying goes, 'squeaky doors get the oil'.
Councillors will tell you there have been instances of residents putting forward the same suggestion for years without success. Then sentiments change, resources become available and that suggestion is implemented. If you feel passionate about how the Rotorua District Council could better deliver its services, have your say by making a submission.
View the full draft Annual Plan, the summary draft Annual Plan and to make a submission before 4pm on 3 May 2011.
Events - May 2011
47th Rotorua Marathon
SAT APR 30, 2011
The Rotorua Marathon proves to be a hardy event that continues to draw experienced and fresh runners and walkers to its picturesque course. The... More info
2011 New Zealand Jet Sport Nationals
SAT APR 30, 2011 - SUN MAY 1, 2011
The 2010 Seadoo Woodbine Marine New Zealand Jet Sport Nationals is the pinnacle of personal watercraft racing in New Zealand. Held annually, this... More info
Cateye Moonride
FRI MAY 13, 2011 - SAT MAY 14, 2011
The Cateye Moonride is the iconic Mountain Bike event held in New Zealand's MTB Mecca - the Whakarewarewa Forest in Rotorua. For the past 5... More info
V48 Hours Furious Film-making 2011
FRI MAY 20, 2011 - SUN MAY 22, 2011
The V48 Hours Furious Film-making challenge is more than a competition. Your chance to have your film seen by Peter Jackson...Get a team, write,... More info
Trust Waikato Symphony Orchestra presents NEW FACES
SUN MAY 22, 2011
Featuring new, young soloist - Cherry Ngan and two relatively new pieces - David Hamilton's Flight written in 2009, and Anthony Ritchie's Piano... More info
The Pink Floyd Experience
THU MAY 26, 2011
The Pink Floyd Experience are pleased to announce their plans for 2011 will include New Zealand for 15 dates in May/June and 20 shows in South... More info
The Big O Trail Run
SAT MAY 28, 2011
The Big O Trail Run is a stunningly scenic anti-clockwise loop around Lake Okataina. The 35km event follows a mix of well established bush... More info
For more information or to check out the latest events, go to rotoruaNZ.com/events
Events and Venues
Raggamuffin's $9 million plus boost to Rotorua economy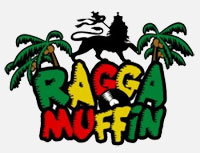 A comprehensive expenditure survey on the February's Raggamuffin music festival has highlighted the huge economic benefit Rotorua gets each year from hosting this popular international music event.
The report reveals that this year alone Rotorua's economy benefited by $9.3 million of direct spend from those attending the concert. It is estimated that over the four years it has been staged to date the local economy has been boosted by approximately $40 million.
Events & Venues Rotorua general manager Peter McLeod said the figures confirm that Raggamuffin is a true destinational event, bringing big numbers of visitors to the city and generating a huge boost to the local economy.
The survey involved a sample 431 Raggamuffin festival attendees in a combination of online and in-person interviews.
For more information on this survey, see the Events and Venues website.
Recipient and sender details
We have collected your contact details. This information is collected to enable us to keep you up to date with tourism news pertinent to the Rotorua tourism market and keep you informed of the activities of the Destination Rotorua Marketing office. We will not disclose your contact details to third parties.

Don Gunn
General Manager
Destination Rotorua Marketing
Private Bag 3007, Rotorua
Phone +64 7 351 7101
don@rotoruaNZ.com