For immediate release
Wednesday, 27 May 2011
The wheels on the bus go round & round in Rotorua
GreatSights New Zealand launches new Rotorua CitySights experience in time for Rugby World Cup.
GreatSights New Zealand (part of the InterCity Group) has announced a 'hop on hop off' CitySights bus that will connect Rotorua's iconic attractions with one easy bus pass. The new service will launch in the city early September, in time for the Rugby World Cup.
Affectionately known as the 'HOHO' (hop on, hop off), passengers can travel around the 34km circuit and hop on and off at their choice of stops. Rotorua CitySights passes are valid for 48 hours, enabling them to board and exit the bus as many times as they like during that period.
Sam Peate, General Manager Coaching at InterCity Group (NZ) Ltd said 'HOHO' buses have proved successful in major tourist cities and have become the expectation with visitors.
"Rotorua has a number of really exciting attractions spread across the city and with the Rugby World Cup this year, we feel the time is right to launch this new service," said Mr Peate.
"The service will not only connect the city's experiences for visitors, it will also reinforce Rotorua's position as an international destination."
Don Gunn, general manager of Destination Rotorua Marketing (DRTM) said the introduction of a HOHO service run by an internationally recognised tourism brand could not be timelier.
"DRTM has been working closely with Intercity for several months to help get the concept off the ground, and it's great that the service will now be launched in time for the Rugby World Cup," Mr Gunn said. 
"The HOHO concept is one that many of Rotorua's 800,000+ annual international visitors will be very familiar with, and indeed expect in a city like Rotorua." 
As part of the service, the CitySights driver will deliver an informative and entertaining commentary, bringing to life the culture and history of Rotorua. Passengers who speak Japanese, Mandarin or Spanish will also have access to disposable earphones (free of charge) for commentary recorded in their language. 
Rotorua Mayor Kevin Winters said he was delighted with the impending launch of the HOHO service.
"Rotorua has some wonderful, unique attractions and it's a fantastic idea to make them more accessible to visitors in this way," said Mr Winters. 
"This is a concept that works well in many popular visitor destinations around the world and there is every reason to believe it will prove just as successful here. It will certainly add another dimension to the Rotorua experience for many thousands of international visitors, and especially for those expected around the time of the Rugby World Cup.
"I take my hat off to GreatSights New Zealand for their confidence in Rotorua's tourism future and to our Destination Rotorua Marketing team for their role in helping make this all come together."
The service will depart every two hours from 8.30am at the Rotorua i-SITE Visitor Information Centre, with the last service departing at 2.30pm. Tickets, priced $30 for adults and $15 for children, can be purchased from the Rotorua i-SITE, hotels, motels and visitor attractions across the city, or online at www.citysights.co.nz.  The 'HOHO' will also be sold by wholesale travel agents worldwide.
"We're confident that the new service and its attractive price point will resonate with local and overseas visitors to Rotorua," said Mr Peate.
"The Rugby World Cup is expected to attract more than 80,000 visitors to New Zealand. It's an exciting time for Rotorua, and GreatSights New Zealand is excited to be part of it."
-ends-
About Rotorua CitySights bus
Passes will be valid for 48 hours, i.e. if you start at 3pm on day one, you can keep on using the pass until 3pm on day three.
Price are $30 for adults, $15 for children.
Passes can be booked at citysights.co.nz, or approved agents.
The Rotorua CitySights Bus will depart from the Rotorua i-SITE Visitor Information Centre every two hours, from 8.30am, with the last departure at 2.30pm
Each circuit will be 95 minutes duration and will make 13 stops en route where passengers are free to hop off, explore the city and attractions, and reboard the service later.
The modern Rotorua CitySights bus is equipped with the latest kneeling suspension technology and the "super low floor" design enables a very smooth entry from the kerbside into the bus for people with limited mobility. A retractable ramp can be lowered to the kerb with the assistance of the driver, allowing wheelchairs easy access and off the bus.
The Rotorua CitySights Bus will have a Euro 4 or better rating, reinforcing InterCity's commitment to being environmentally friendly.
Rotorua CitySights Bus Schedule below:
| | |
| --- | --- |
| Stop | Departures every two hours from 8.30am |
| Rotorua i-SITE Visitor Information Centre | 30 min past the hour |
| Kuirau Park | 32 min |
| Skyline Gondola | 42 min |
| Rainbow Springs | 45 min |
| Agrodome | 53 min |
| Zorb | 03 min |
| Agroventures | 08 min |
| Caterpillar Museum & NZ Farm Experience | 17 min |
| Lake Rotorua Wharf | 25 min |
| Rotorua Museum & The Blue Baths | 29 min |
| Polynesian Spa | 31 min |
| Rotorua i-SITE Visitor Information Centre | 37 min |
| Whakarewarewa Village | 46 min |
| Te Puia | 49 min |
About InterCity Group
InterCity Group consists of four brands including:
InterCity Coachlines provides New Zealand's largest coach transportation network connecting to more than 600 destinations nationwide, with over 200 services every day.  Visit intercity.co.nz.
GreatSights New Zealand, offering luxury state-of-the-art coaches, including three glass topped coaches, with expert driver guides delivering informative and entertaining commentary.  Daily sightseeing tours with GreatSights include entry and guided tours through some of New Zealand's most renowned attractions.  Visit www.greatsights.co.nz.
Fullers GreatSights Bay of Islands offers a range of land and marine-based activities throughout Northland, including dolphin watching/swimming cruises as well as a guided scenic coach tours to Cape Reinga and the Hokianga.  Visit dolphincruises.co.nz.
awesomeNZ offers tourists up close and personal experiences that are stimulating, educational and inspiring.  Visit  awesomeNZ.com.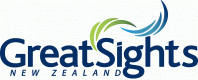 For more information, please contact:
Daniel Rode
General Manager Marketing & Online Sales
Mob: 027 4913530
danielr@intercity.co.nz